BOGD KHAN RAILWAY" PROJECT
For the first time in Mongolia, we are planning to build a railway tunnel and viaduct (massive bridge).
BogdKhan railway project is a complex 144.9 km long railway project that starts from Rashaant yard and ends in Maanit yard. For the scope of project, Mongolia's first railway tunnel and viaduct will be built. The project starts in July 2022 and ends in November 2026.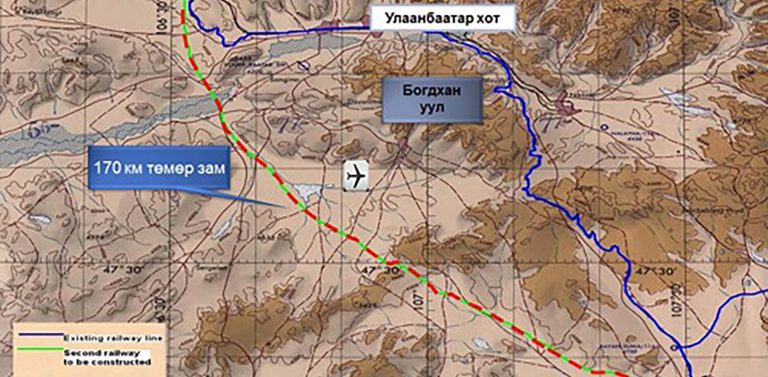 Social, Economic importance:
Noise level, stress, mental health problems caused by train passing through the Ulaanbaatar city will effectively decrease
The four main railroad level crossings in Ulaanbaatar causes 230 minutes of delay to the traffic daily. After the project this number will decrease around 84.8 percent.
By decreasing this time delay, averagely 445M₮ will be saved per year from wasteful spendings.
Revenue from export, import and transit transportation will be at least doubled from 34.82M$ to 64.95M$ during the first 30 years of project implementation. It will play an important role to intensify foreign trade turnover.
During the operation, over 1800 new jobs will be created as part of the project.
Population of residential area along the railway trail will increase 6 times more, so that economic circumstances would improve in the area.
A residential area with cultural, tourist, and green attractions will be created and provide comprehensive social infrastructure services that are accessible to everyone. Henceforth, Ulaanbaatar will be decentralized.
It will develop into a logistical network with the intersection of railways, roads and airway.
BogdKhan railway project consists of four sets of sub project.
Substructure and Superstructure
SET 1
Substructure: 551 m – дам нуруут гүүр, 80 m – жаазан гүүр, 2 viaduct – 4770 m, 2 Tunnel – 14600 m

Дээд бүтэц: 30,000тн зам төмөр, 514,000ш бетон дэр, 514,000 багц бэхэлгээ, 130ш суман шилжүүлэг

Communication, fiber cable
SET 2
SCADA, TETRA digital radio system, GPRS, GNSS train positioning system, 239.68 km fiber cable.
Railway yard and junction construction
SET 3
2 yards, 6 junctions, 2 office buildings
Power supply
SET 4
• 36 substations of 35/10kV
• 35 kV Electrical Transmission line
• Stand by diesel generator
• 40kom light tower


The "BogdKhan Railway" project is aimed at reducing traffic congestion and creating a satellite settlement zone that follows the infrastructure. With the implementation of the BogdKhan railway project, 71,260 minutes or 1,188 hours or 49 days of road closures will be saved, and the problem of road congestion in Ulaanbaatar will be reduced. Railways and highways intersect in four parts of Ulaanbaatar city's main road. On average, 230 minutes a day are reserved for train traffic and roads are closed at these crossings. By putting Bogdhan railway into operation, this time can be reduced to 35 minutes or 84.8 percent.