Bodi Group tend to make impacted significant contributions to country's economic and social development. Meanwhile, we are committed to carrying out activities that are friendly for people, society, and environment as well. We highly focus on improving the quality of education, sports, and nature conservation.
Athlete of the national team of the Mongolian Cycling Federation, IMA
Bodi International LLC constantly makes practical contributions to the sports world, and IMA Enkhjargal.T successfully participated in the World Championship, proudly representing his country and turning a new chapter in sports.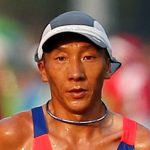 State-honored athlete and marathon runner Ser-Od. B participated in the Summer Olympics in London, England with the sponsorship of Bodi Group, and was ranked 51st out of the 105 best athletes in the world, covering 42.2 kilometers in 2:20:10.
Cooperation within
the framework of social responsibility
Please contact us regarding any proposals for cooperation in the framework of social responsibility.
Sustainable development, 
social responsibility